Putting Florida away: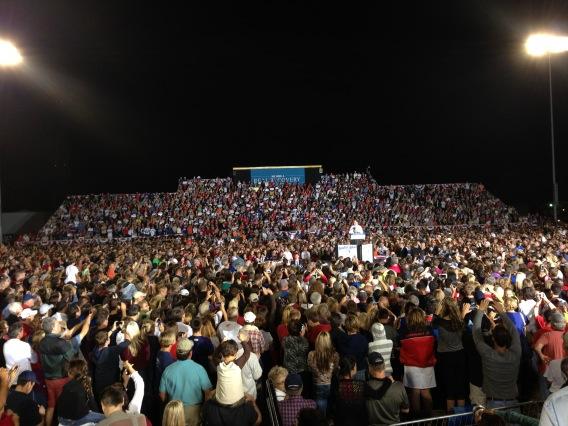 On the scene report from Jeff R in the comments section:
I'm in that picture behind him somewhere. Just got back from the rally. I live in Pinellas and Land O'Lakes is in eastern Pasco County, about an hour or so away (longer tonight due to heavy traffic).

Land O'Lakes High School is on US 41. That road goes all the way down into downtown Tampa and it'll take you up to Brooksville in Hernando County – so a good crossroads location for the Tampa Bay area. Traffic was backed up three miles away from the school in either direction. People parked two miles away and walked in. My group ended up much closer, but this group was determined to see Mitt Romney. So few could actually park at the school, so the side grass on US 41 was filled with parked cars.

It is worth noting that this rally began while FSU and UF were playing football today. UF was playing in "The World's Biggest Outdoor Cocktail Party" against Georgia in Jacksonville – and yet so many thousands turned up. USF was also playing a football game in Tampa at Raymond James Stadium. It's not like people didn't have something else they could do that didn't involve a massive crowd in a small space and lots of standing and walking. President Obama could only muster 8500 near downtown Tampa in a park that could hold 10,000 just a few days before. Yet Mitt Romney drew thousands from Hillsborough (where Tampa is), Pinellas (St. Pete/Clearwater), and Pasco (New Port Richey, Zephyrhills) and many had to drive through heavy traffic to get there where it took a half hour to go a mile. Seriously.

Had to go through "airport like" security overseen by the Secret Service. The uniformed agents were as nice as could be and it was superfast to get through. The Secret Service is a million times better at this than the TSA.

This was not merely an anti-Obama rally, folks. People have clearly grown a fondness for Romney. I doubt there was anyone there that felt they're stuck with this guy. We've gone from agony in some corners of the GOP over nominating him to sheer joy. They like him and they were there to see Mitt. It was so loud when he walked up to the podium. And that prepared stump speech that I've heard bits of before, it sounded sincere. He even got in a few quips and showed he knew something about Florida – joking about how many transplants we have (whenever he'd mention another state like Wisconsin or Ohio (I shouted at that one), he noticed there'd be places in the crowd that would cheer) and he didn't mention the cost of heating oil in the energy cost bit because he told us that we probably didn't have to pay much for heating.

Romney is really good at this now. He's clearly much more comfortable and he go us to stop chanting his name and instead chant "10 more days!" – though he picked up on the one negative of that chant, the fact that we'd have to change it tomorrow.

People are fired up. Romney is fired up, but I loved how he stressed that this is a team effort, not just for the election, but beyond. There is no cult of personality here, but I think there is a growing affection for the man and his family. People believe in him like they didn't in McCain – and it is not a naïve belief like the one Obama rode to victory.

We need to work hard for the next 9 days to ensure the wave, but I feel it coming. I am convinced that there is something bigger nationwide that polls cannot measure, but these enthusiastic crowds that Romney is getting everywhere now do. A mere anti-Obama does not get crowds like this. Romney is inspiring people. Talked to more than a few people in the crowd who said they were registered Democrats that were disgusted by the President and what the left had done to their party.

Big change is coming.